Accovit Omega
Regular price
£14.00 GBP
Sale price
£14.00 GBP
Unit price
per
Sale
Sold out
High Strength: Our capsules are some of the highest capacity on the market with a total EPA & DHA 700 mg per capsule. This means you will need to take less capsules compared to other brands to get the same amount of active ingredients.
Convenient Source of Omega 3: Accovit Omega is an easy way to get the required Omega 3 required in our diets. Many people struggle to get sufficient Omega 3, EPA and DHA. Taking 1-2 capsules per day is a quick and easy way to help hit your targets.
Batch Tested: Accovit Omega is third party tested to WADA standards so you can be assured that this product is suitable for top level athletes.
Up to 3 Month Supply: With 90 capsules per bottle, by taking 1 daily this bottle can last up to 3 months.
Key Ingredients

Analysis Per Capsule

Total Omega-3 700 mg

of which EPA (Eicosapentaenoic Acid)400 mg

of which DHA (Docosahexaenoic Acid) 300 mg
Ingredients

Ingredients Information:

EN: Fish oil, Gelatine, Glycerine

DE: Fischöl, Gelatine, Glyzerin

IT: Olio di pesce, Gelatina, Glicerina

FR: L'huile de poisson, Gélatine, Glycérine

ES: Aceite de pescado, Gelatina, Glicerina

For allergens, see ingredients in bold.

No artificial colours, flavours or preservatives. This product is gluten-free.
How to Take

Take 1 to 2 softgels once daily with water. Best taken with meal.
Storage Instructions

Storage Conditions: Keep tightly sealed in a cool dry place and away from children.
Share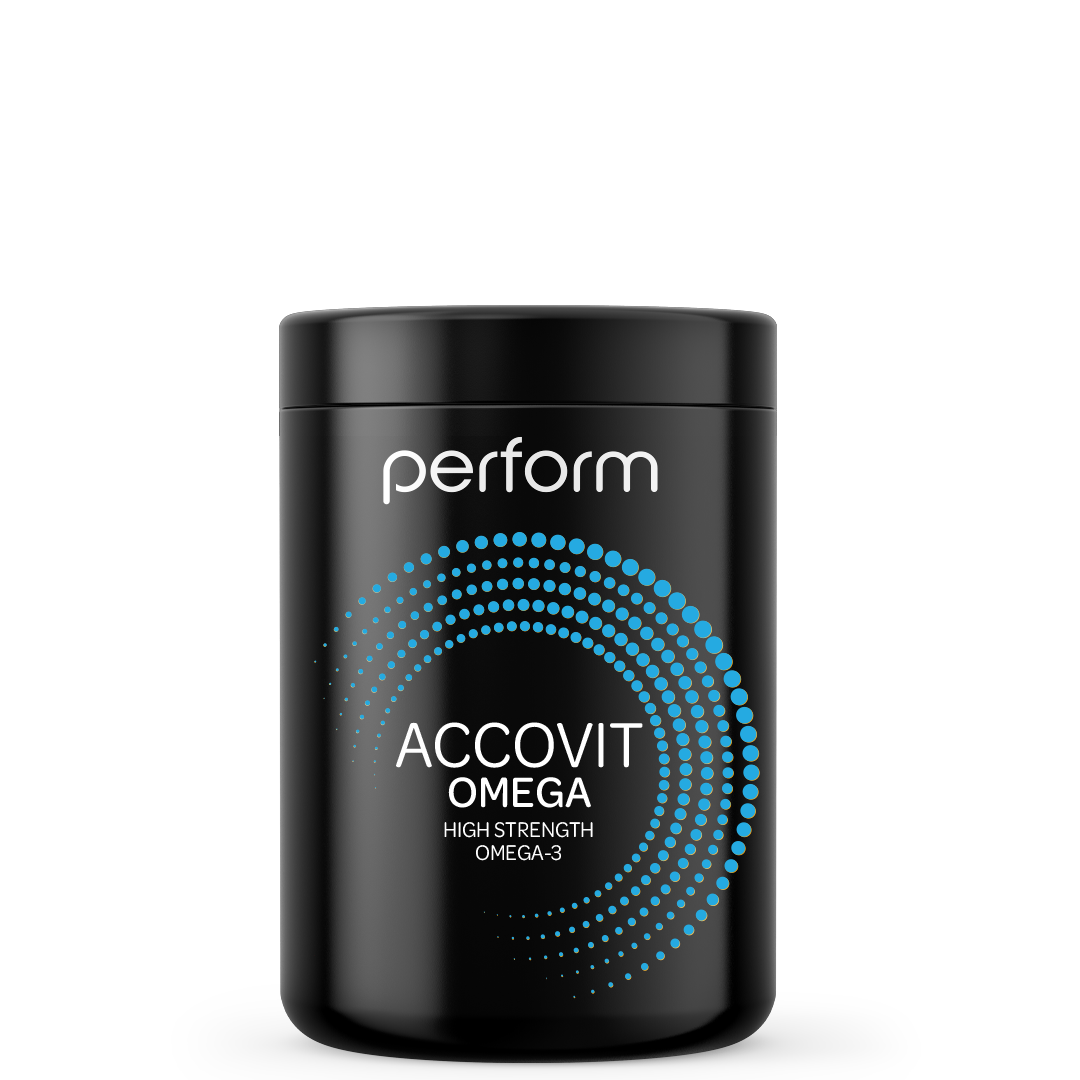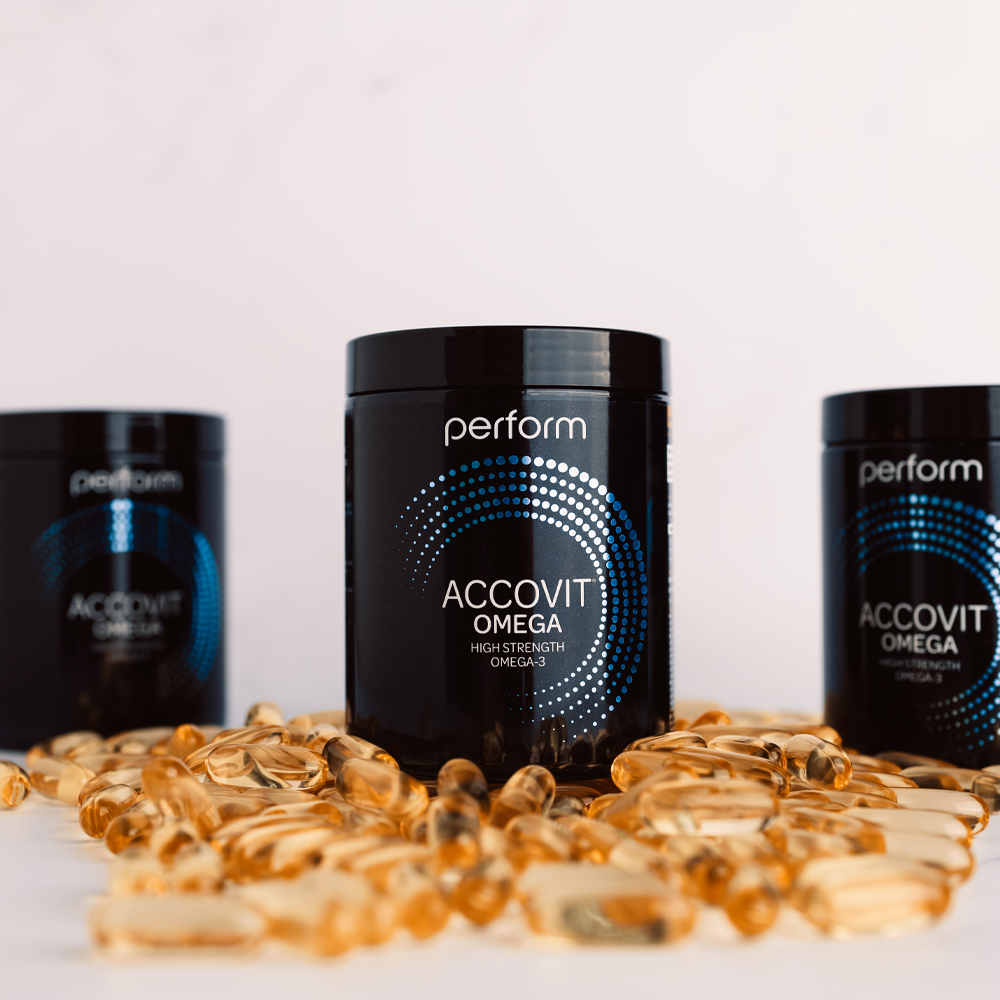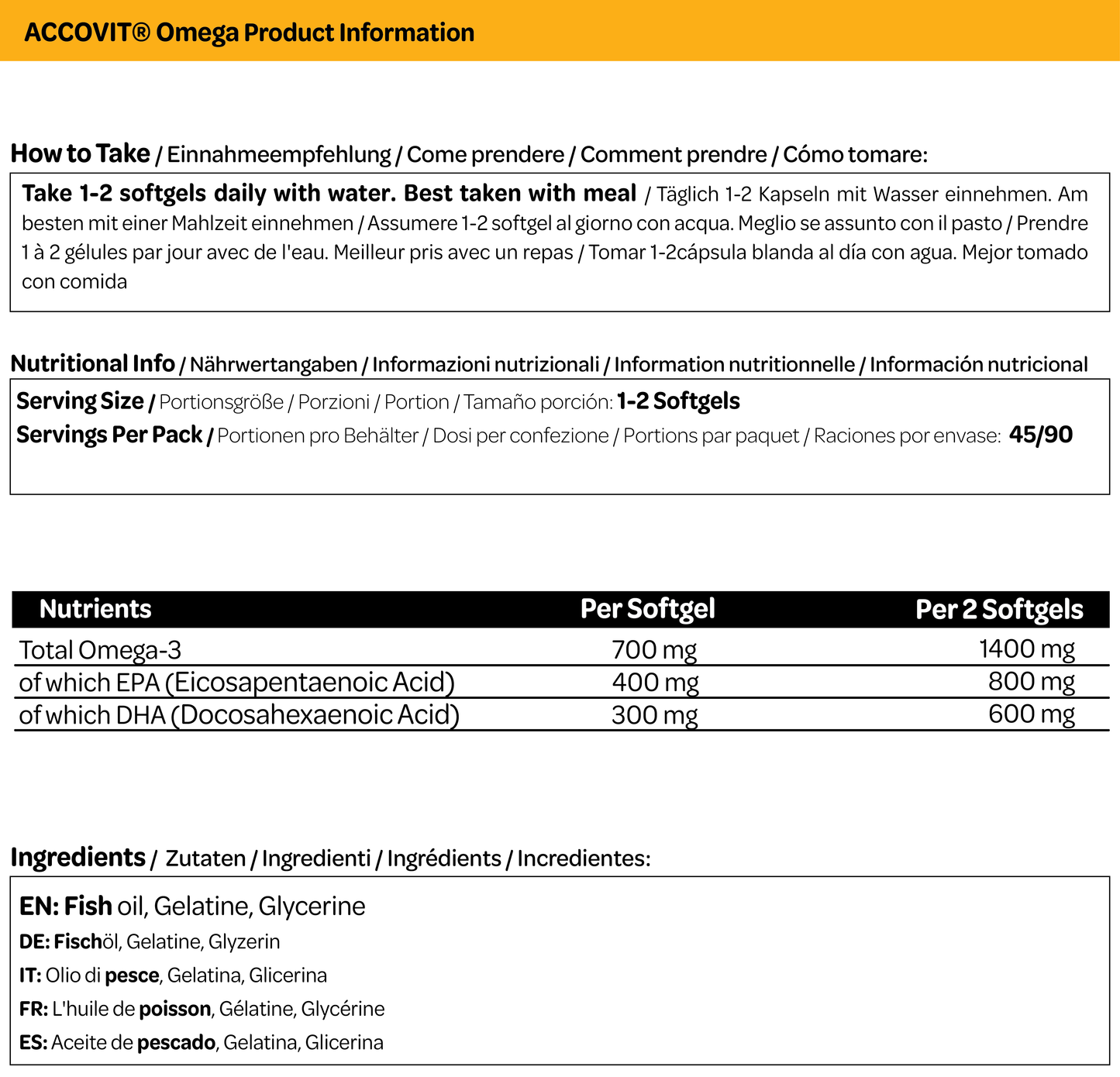 Accovit® Omega Product Information
High strength Omega-3 fish oil for your health and wellbeing
The Omega-3 polyunsaturated fatty acid (PUFA) α-linolenic acid (ALA) is an essential fat in that it cannot be synthesised in the human body, and therefore must be consumed in your diet. Eicosapentaenoic Acid (EPA) and Docosahexaenoic Acid (DHA), which are mainly sourced from seafood or fish oil supplements, are synthesised from ALA but this is an inefficient process with suggestions therefore that EPA and DHA are conditionally-essential and should be taken in supplemental form.
Importantly, Omega-3 supplementation is established as having a multitude of health benefits including anti-inflammatory effects, promoting recovery from training, promoting bone health, strengthening immune defence, enhancing mood and brain function, and improving control and storage of dietary glucose and fats, and body composition. Therefore, these healthy fats are vital in an athlete's diet to support general health, to facilitate adaptation and recovery from training, and achieve body composition goals supported by an active lifestyle.
Why choose Accovit® Omega?
Foods such as fish, nuts, seeds and plant oils are good sources, however it is not always easy to consume adequate amounts of these foods and by taking a pure high quality omega oil supplement you will get the essential oils your body needs for optimum health.
Accovit® Omega is a high-quality fish oil: supplement rich in EPA and DHA. Supplementing with Accovit® Omega will ensure that you get your daily requirement for EPA and DHA. The Omega-3 PUFAs in Accovit® Omega are sourced from fish, extracted using a patented technology and packed in a very stable form to give you a premium Omega-3 supplement.
Accovit® Omega is a registered trademark of ROS Nutrition Group Limited.